Club Pedestal
Club Pedestal is an occasional London-based night club with a femdom theme. It has had an association with Sardax art since its inception.On these nights Sardax drawings are proudly on display, providing the perfect ambience for the dominant lady to play amongst her devoted slaves. The first I went to turned out to be extremely well-attended and unusually the mix of dominant females to males was reasonably equal. Plenty of atmosphere, swathes of foot-worship going-on..you had to be careful you weren't stepping over a sub-male at work.
See www.clubpedestal.com for further details.
Photos taken at previous nights
Quick sketches made of visiting ladies on the night itself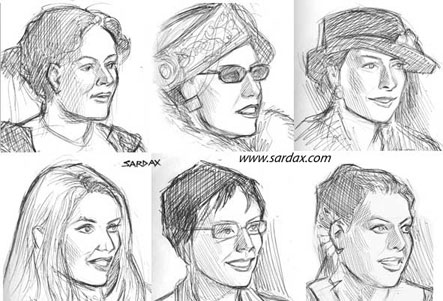 Pedestal Club Flyers
The Pedestal Club flyers have established a distinctive look for the club. Restrained and elegant, they have become collectors items in their own right and are quickly snapped up in shops where they are displayed.
Traditionally the image on the current flyer is reproduced to massive proportions-almost 4-5 ft tall and placed in a prominent position of the club-behind a throne,for example.
In the latest Pedestal illustrations have even been projected on the wall to huge sizes.
You can see all these illustrations on the classics page of the main members area.Join now
The Pedestal Club is run by the same people who bring you Woman Worship-the member site offering you Female Domination ,foot fetish and trampling. Photos,videos and much more besides.